Aaron Wall and Ciarán Sm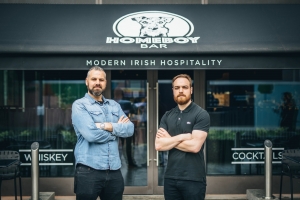 ith launched the original Homeboy in Islington in December 2018.
Since then, the bar, which boasts "modern Irish hospitality", has won Best Bar in North London by Design My Night; Top 4 Best New International Cocktail Bars in the World 2019, Top 10 Best International Cocktail Bars Europe 2020 and was placed 97 in a list of the Top 500 Bars in the World.
The pair first met at home in Dublin years ago, but their paths took them in different directions across the globe before they began their work on Homeboy Islington.
Wall left Dublin to gain success at the helm of the world-famous London Cocktail Club and Callooh Callay, while Smith travelled the globe, managing famous hotels such as The Waldorf Astoria, NYC and The Dorchester in London.
But, having reunited in the past few years, they have now combined their dynamism and attention to detail to create Homeboy Bars.
"Hospitality and making people feel at home, will be at the core of everything we do," they said of the joint project.
Regarding the unique choice of name for their establishments, they explain: "The name comes from Aaron being told how much of a "Homeboy" he is because of his love of his home country Ireland, many in the London bar scene will tell you he is the 'Irish Ambassador'.
"Hospitality is at the heart of Irish culture and we want to share that with you, modern Irish hospitality without the twee," they add.
This week the lads launched their second Homeboy venue, located in the south London riverside neighbourhood Embassy Gardens, in Nine Elms.